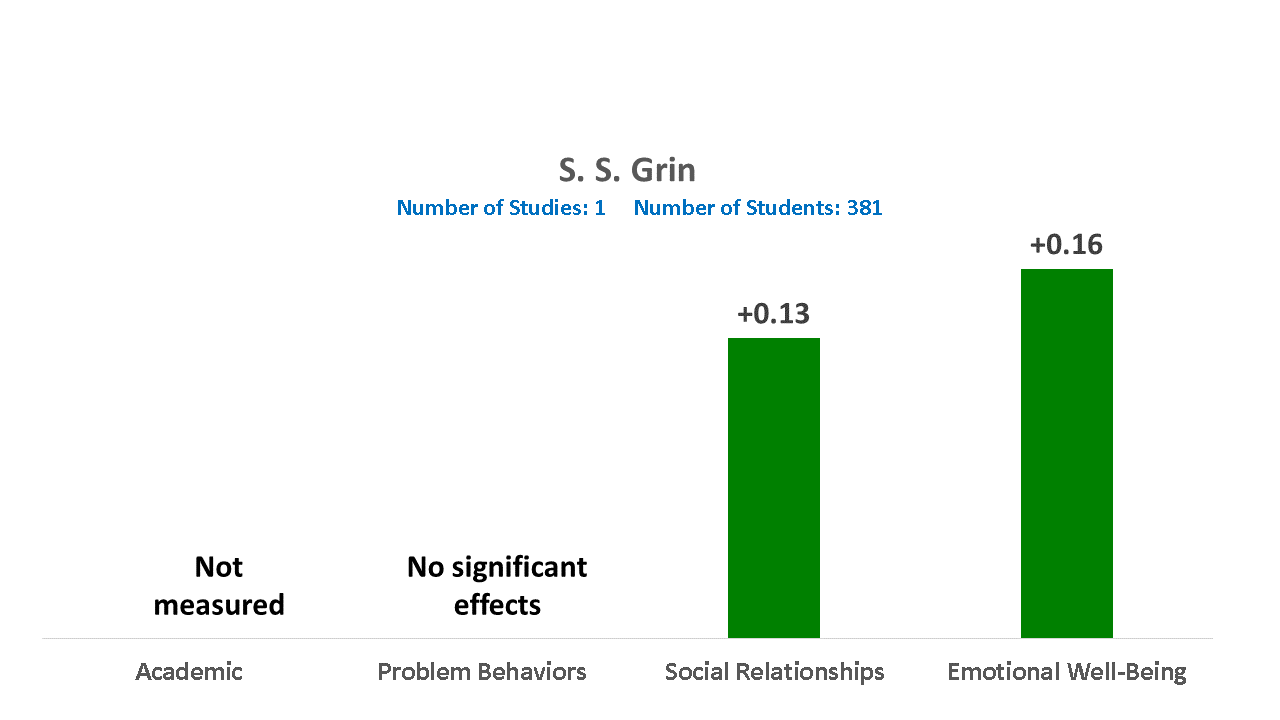 Strong
Moderate
Promising
Program Description
Social Skills Group Intervention (S.S.GRIN), powered by IMPACT, 3C Institute's online system, is a targeted RtI Tier 2 small-group intervention that addresses bullying, victimization, and social-emotional competence. The program covers communication, cooperation, impulse control, perspective taking, conflict management, empathy, and more. There are versions for children in pre-K through early high school, as well as a version for children in grades 3-5 with high-functioning autism. S.S.GRIN is used in classroom, clinic, and community settings.
Program Outcomes
A study by DeRosier (2004) in  Wake County Schools in North Carolina evaluated S.S.GRIN. Within each of 11 elementary schools, third grade students with peer, bullying, or social anxiety were identified and then randomly assigned to experimental or control groups, which did not receive any special treatment. The experiment took place over the spring semester. Outcomes were assessed using a combination of peer measures and self-report measures. Significant positive effects were reported on social skills (ES=+0.13) and self-esteem (ES=+0.21), but not on aggression/conduct problems, bullying, or depression. These outcomes qualified S.S.GRIN for ESSA "Strong" ratings on Social Relationships and Emotional Well-Being. At the one year follow-up study (DeRosier and Marcus, 2005), the pattern of findings was similar to that at post-intervention; however, several new group differences emerged. Additional positive treatment effects were found, including higher social acceptance and self-esteem and lower depression and anxiety.
Staffing Requirements
Typically delivered by a school counselor, social worker, or teacher, along with a co-facilitator.
Professional Development/Training
Comprehensive online provider training included with subscription
Technology
Users can access 3C's software through any device with an HTML5 web browser (e.g., Internet Explorer, Chrome, Firefox, Edge, Safari).