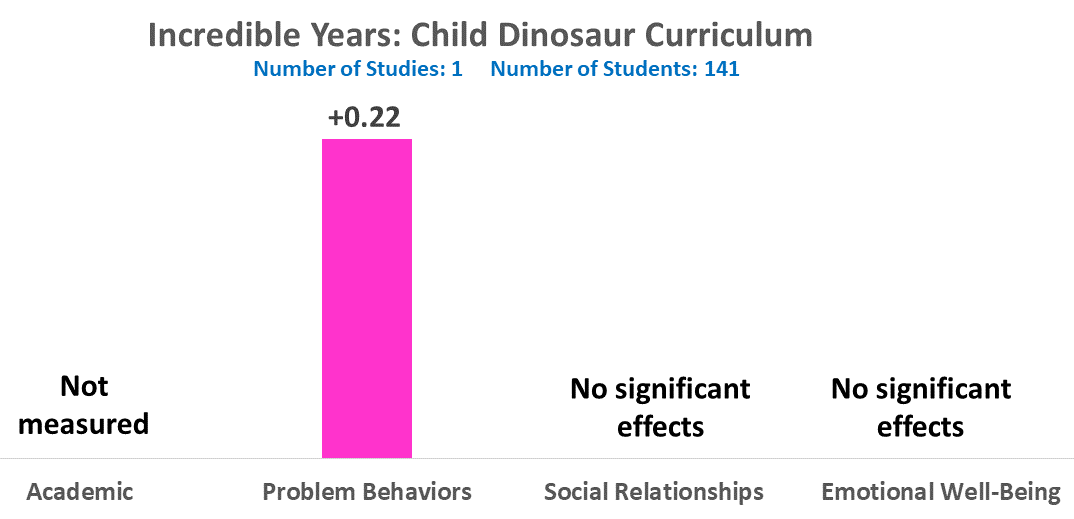 Strong
Moderate
Promising
Program Description
The Incredible Years (IY) is a set of teacher, child and parent programs designed to promote children's social, emotional and academic competence including prevention and reduction of behavior problems in children ages 3-12.
The IY Child Dinosaur Curriculum is designed for children ages 4-8 years and focuses on teaching children emotional literacy and self-regulation, problem solving, anger management and social skills. 60 classroom lessons are delivered 2-3 times a week by teachers for 3 school levels including a curriculum for preschool, kindergarten and grades 1 and 2.  Circle time lessons are generally 20-30 minutes and are followed by small group activities designed to practice the skills being taught.  Teachers are encouraged to enhance this learning by reinforcing use of social and emotional skills taught throughout the school day and during recess and meal times.
Note: There is also a treatment version of this program where students meet in small groups of no more than 6 children, weekly for 2 hours for a minimum of 18 weeks, ideally while their parents are in the parent 2-hour groups. A model exists for offering this small group treatment approach in schools twice weekly for 1 hour.
Program Outcomes
The Incredible Years Child Dinosaur Curriculum was evaluated by Reid, Webster-Stratton, & Hammond (2007) with students identified as having conduct problems, in 14 Seattle-area schools. The schools were randomly assigned to IY or control conditions in a 2-year evaluation. Students in IY scored better than the control group on aggression/conduct disorders (ES=+0.31), qualifying for the ESSA "Promising" rating, but there were no differences on disruptive behavior, social skills, anxiety/depression, emotional regulation, or pro-social behavior.
Staffing Requirements
Two trained group leaders are needed to conduct either the classroom or treatment versions of the child program.
Classroom teachers may be trained to deliver the program in their own classrooms. If the classroom has an assistant, that person should also be trained.  A preferred method of delivery is to have classroom teachers trained alongside another school professional (school counselor or school psychologist) and to have a team of 2 people to deliver the program in each classroom.
Professional Development/Training
Group leaders or teachers participate in a 3-day initial training. Following the initial training, group leaders or teachers begin leading the program and receive consultation from The Incredible Years trainers and mentors.  Group leaders/teachers participate in an accreditation process to ensure that they are delivering the program with fidelity.  When group leaders/teachers have completed the accreditation process, they are certified in the program.
Technology
Video machine
Evidence Summary
Problem Behaviors: Promising