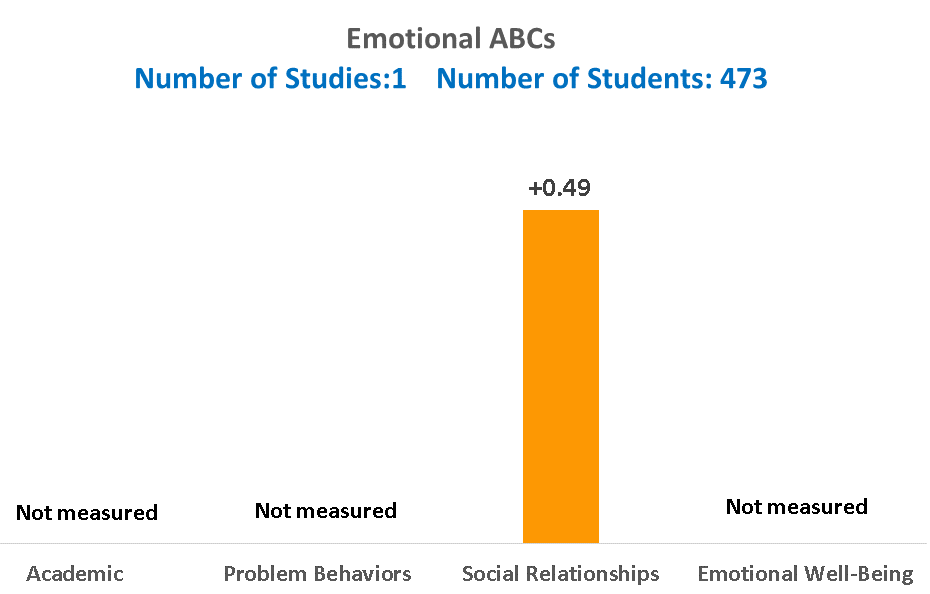 Strong
Moderate
Promising
Program Description
The Emotional ABCs Program is a sequential, skill-building educational curriculum for children ages 4 -11 developed in collaboration with psychologists, therapists, and educators. The curriculum, which does not require teacher training, includes a set of 20 classroom workshops consisting of short modules for flexible teacher use. Each workshop uses interactive online activities, videos, printables, as well as in-classroom teacher modeling, teacher-student interactions, and student-student interactions. The curriculum is divided into four units, and each workshop builds on skills introduced in previous workshops. All resources needed per workshop are provided by Emotional ABCs either as online content or as downloadable printables, and each workshop includes a clear SEL Teaching Goal, a Teaching Point with suggested modeling ideas, relevant Group Discussion and Group Activities, plus Individual Self-Reflection sections. A main feature of the curriculum is the Emotional ABCs Toolbar, which shows children how to quickly figure out what they are feeling (Pause), why they are having that emotion (Rewind), and how to make a good choice (Play).
Program Outcomes
Emotional ABCs was evaluated in a quasi-experimental study involving 473 first and second grade students, in 22 classrooms, in 8 schools across the US. SEL scores were measured at two time points approximately 8 months apart. Students in Emotional ABCs classrooms scored significantly higher than students in control classrooms (effect size = +0.49) on the Devereux Student Strengths Assessment-mini (DESSA-mini), which provides a general measure of a student's social-emotional competence. Based on these outcomes, Emotional ABCs was rated ESSA "moderate" in the Social Relationships category.
Staffing Requirements
Teacher or school counselor uses the program to instruct students in the classroom or remotely via live screenshare.
Professional Development/Training
No teacher training needed.
Technology
Computer and/or whiteboard.
Evidence Summary
Social Relationships: Moderate