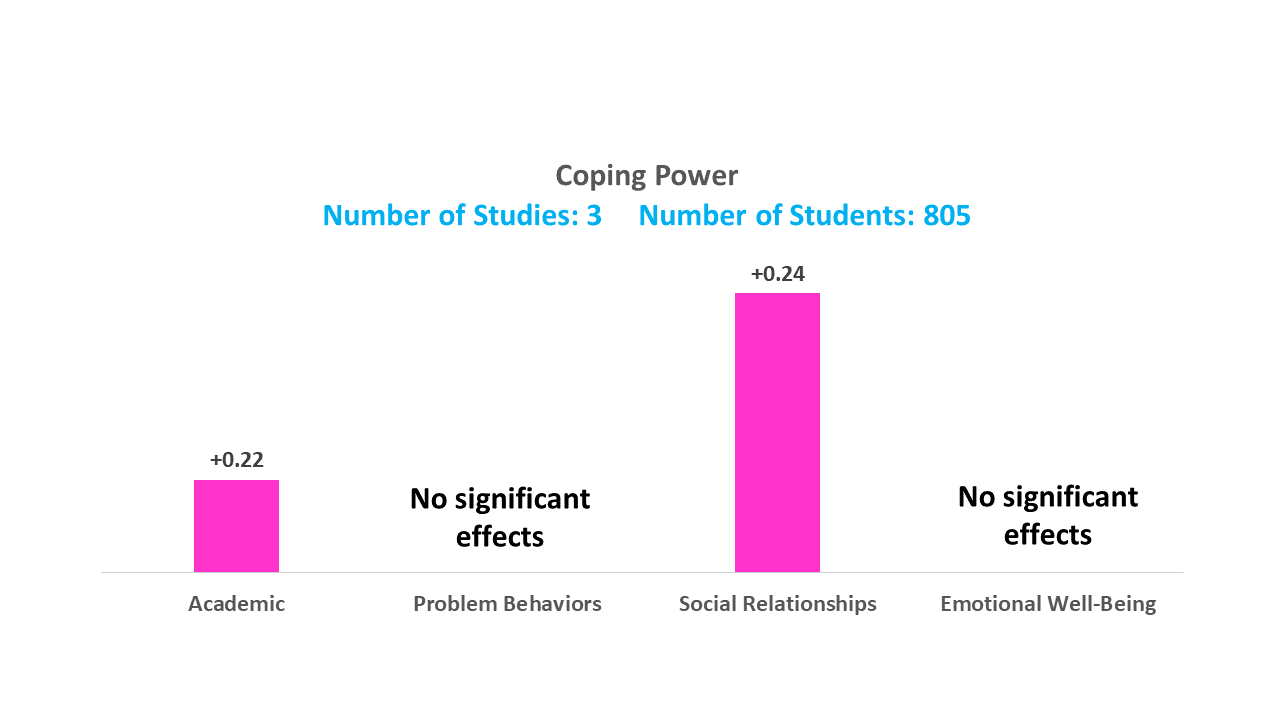 Strong
Moderate
Promising
Program Description
Coping Power is a targeted preventive intervention program for upper elementary students showing behavioral problems. Using 50- to 60-minute long weekly cognitive behavioral group sessions, the program aims to promote emotional awareness, emotional management, social problem solving skills, and positive peer relationships. Coping Power can be implemented as a 15- to 18-month full version, or an 8-month hybrid version which fits the length of a school year.
Program Outcomes
Coping Power has been evaluated in 3 studies. Lochman and Wells (2002) randomly assigned students from 17 elementary schools in a small-sized city in the southeastern U.S. either to Coping Power or control groups. After 16 months of intervention, students in the treatment group showed stronger social skills (ES=+0.30) and aggression and conduct problems (ES=+0.13), compared to the control students. Coping Power had no significant effects on all other outcomes, including academic engagement (ES=+0.24), disruptive behaviors (ES=+0.09), drug and alcohol abuse (ES=-0.03), interpersonal relationships (ES=+0.07), school climate (ES=+0.13), and anxiety/depression (ES=+0.09).
A randomized controlled study by Lochman and his colleagues (2009; 2012) evaluated Coping Power in 57 public schools in north central Alabama. Eighty-four percent of students in the study were African American. The study identified positive effects of Coping Power on academic performance (ES=+0.22) among treatment students, compared to controls. However, the program did not show any significant effects on aggression/conduct problems (ES=+0.02).
Finally, Lochman et al. (2017) tested the effect of an 8-month hybrid version of Coping Power in a randomized controlled study in 8 Alabama schools. Ninety-three percent of the sample were African American. This study failed to find significant effects of Coping Power on aggression and conduct problems (ES=+0.24).
Coping Power qualifies for an ESSA "Strong" rating for Academic Competence and Social Relationships, with combined effect sizes of +0.22 and +0.24, respectively.
Staffing Requirements
No additional staffing required
Professional Development/Training
Two days of 3-hour online training and another 9-hour online training are required to get the level 1 basic certification. Follow-up trainings, including 2 3-hour trainings and 2 days of workshops tailored to the agency's particular needs, are recommended. For the follow-up trainings, trainees need to submit videos for fidelity checks and receive supervision phone calls.
Technology
No technology required
Evidence Summary
Qualifying studies found no significant positive outcomes.