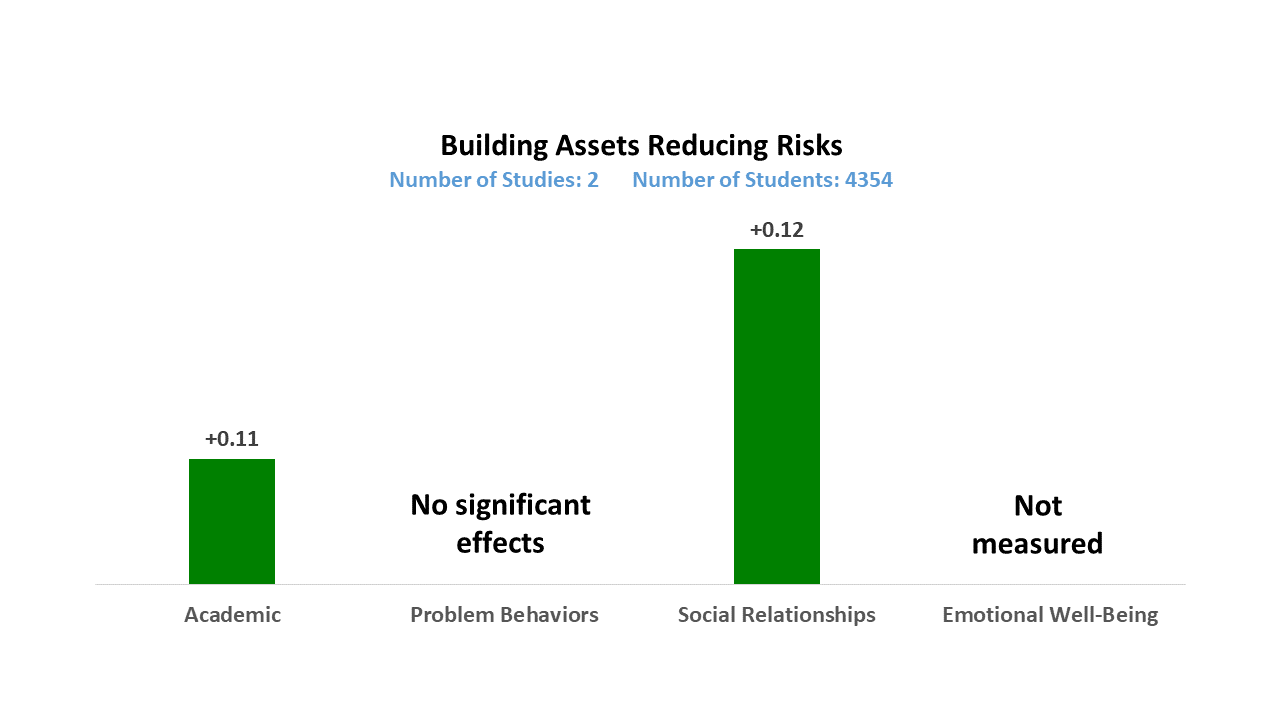 Strong
Moderate
Promising
Program Description
Building Assets, Reducing Risks (BARR) is a whole-school, strengths-based model that provides schools with a comprehensive approach to meet the academic, social, and emotional needs of all students. BARR uses block scheduling, in which a group of core subject teachers works as a team with a group of students, similar to a school-within-a-school. Team members get to know students as individuals. BARR's SEL curriculum, "I-Time," is a 30-minute weekly lesson facilitated by core subject teachers in which students learning more about themselves, discover their strengths, and build relationships between staff and students, and among students themselves. Members of the teacher teams meet regularly to discuss each student's strengths and progress and identify obstacles to learning. Staff participate in risk-review meetings to design and implement comprehensive strategies to address the needs of the students who are most at risk. Parents are involved in BARR, participating in an orientation and a parent advisory council. Extensive professional development and coaching are provided to teachers, counselors, and administrators.
Program Outcomes
A study of BARR was carried out as part of a federal Investing in Innovation grant (Corsello & Sharma, 2015) involving one school in a high poverty suburb in Southern California. Within this school, students were randomly assigned to BARR or control conditions. Only students in self-contained special education or those with very limited English proficiency were excluded from random assignment. The student racial composition was 55% White, 37% Hispanic, and 11% Other. 68% of students were eligible for free- or reduced-price lunches, and 17% were English learners. On NWEA standardized tests, controlling for pretests, BARR students gained significantly more than controls and also earned significantly higher GPAs and number of credits in core courses for an average effect size of +0.23. This qualified BARR for the ESSA "Strong" rating in the Academic category.
In another study, Bos et al. (2019) evaluated BARR in 11 high schools from 5 states. The sample included 55% Hispanic, 25% White, 9% African American, and 32% English learner students. Also, 77% of the students were receiving free- or reduced- price lunch. Approximately 30% to 50% of students in each school were randomly assigned to the intervention group, and the remaining students were assigned to the control group. After 1 year of intervention, BARR students demonstrated stronger student-teacher relationships and sense of belonging to classroom than control students (ES=+0.17). Students in the BARR group also had significantly higher GPAs and were significantly less likely to fail courses than control students (ES=+0.21), but did not gain more than controls on NWEA reading or math scales (ES=+0.01). BARR students tended to be more engaged in academic affairs than control students as well, showing greater levels of grit, belief in teachers' expectations, persistence in school, and attendance (ES=+0.09). These findings solidified BARR's "Strong" level in the Academic category and also qualified BARR for the ESSA "Strong" level for Social Relationships.
Staffing Requirements
The model requires .3-.5 FTE staff member to coordinator BARR implementation and activities.
Professional Development/Training
Extensive professional development provided for this 3-year model. In addition to the two training days per year, a BARR coach visits the school four times in the first year and three times in years two and three. The BARR coach connects weekly with the schools' BARR coordinator to help problem solve, answer questions, share best practices and provide encouragement. The BARR coordinator and the school administrator are also invited to participate in quarterly Professional Learning Community (PLC) calls to connect with other schools across the country that are implementing the model and to attend the annual BARR National Conference.
Technology
None needed